News
Takao Beer Mount will open on June 15th 2019!
Mt. Takao's popular beer garden Beer Mountain rests at an altitude of 488 meters and will open on June 15th this year.
2019/6/15 (Sat)-10/15 (Tue)
Beer Mountain will be open daily from 13:00 to 21:00 during this period.

Place
Immediately after getting off the upper cable car station
Period
From June 15th to October 15th, every day.
business hours
13: 00-21: 00 (Last order 20:45)
Number of seats
Approximately 600 seats
Among them, 120 reserved seats are reserved, and over 300 seats covered seats.
Ticket
Men: 3,800 yen (3,500 yen for those 65 and over)
Women: 3,600 yen (3,300 yen for those 65 years and older)
High school student: 3,300 yen
Junior high school student: 2,500 yen
Elementary school student: 1,500 yen
Infant (over 3 years old and under elementary school age): 500 yenExcess charge: 500 yen charges for staying over 2 hours
(After that there is an additional charge for every 30 minutes, 500 yen on weekdays, 1,000 yen on weekends and holidays)

* All-you-can-eat / drink in 2 hours.

Reservation
Reservations are possible for 4 or more people on weekdays and 10 or more for weekends and holidays.
Reservations can be made by phone ( 042-665-9943 ) or on their reservation website .
Please note that you cannot select seats through your reservation.
You can cancel up to 3 days before your reservation date.
Numbered Tickets
Numbered tickets are issued depending on crowded the venue is.
Other
During this period, the cable car's hours of operation are extended until 21:15.
Beer Mountain is so popular that is necessary to distribute waiting ticketes on weekends in August and September.
While the restaurant is open period, the cable car's hours of operation are extended until 21:15.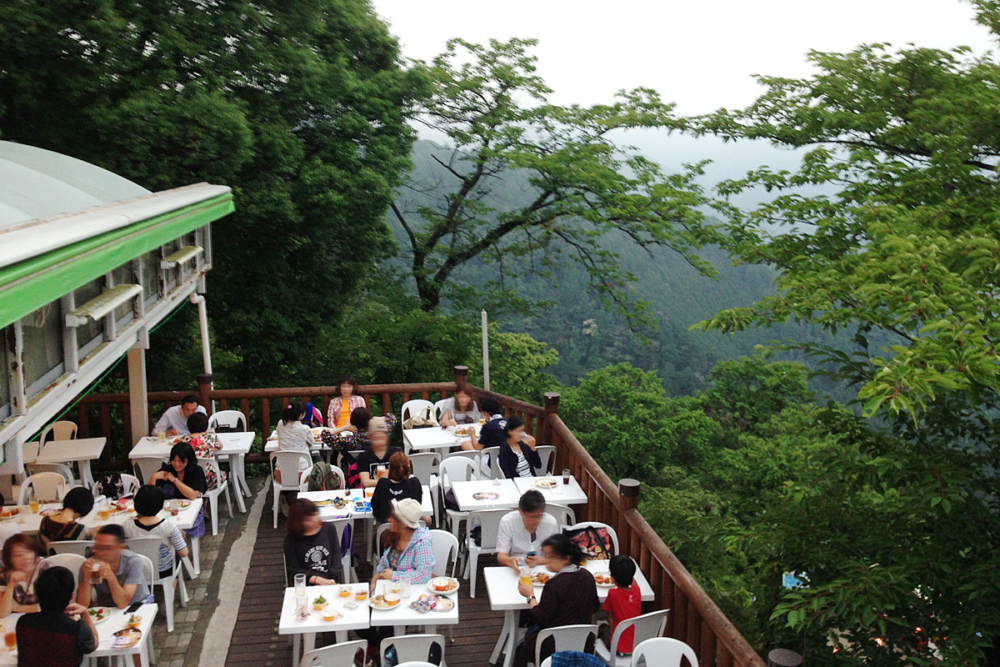 New menu in 2019
Beer Mountain is a gourmet establishment with new menus coming out one after another!
The main feature of this year's new menu is cheese fondue!
It is recommended to eat with local Hachioji-grown vegetables.
In addition, the following items also appear on the menu:
Desserts such as macaroons
Smoked pork and marinated tomato and edamame
Grilled chicken and vegetables
Shrimp fritters, fried chicken & potatoes
Penne Arabica and Vegetable Gratin
Events in June
There are plenty of Beer Mountain events on weekends in June!
6/15 (Sat), 16 (Sun) Opening event
All-you-can-drink Hachioji local sake "Takao no Tengu"!
June 15 (Sat)-June 21 (Fri) Premium Beer Fair
All-you-can-drink premium beers from the four major Japanese beer makers.
Dry premium
Ichiban Shibori Premium
Premium Malts Masters Dream
Yebisu Beer
6/22 (Sat.) and 6/23 (Sun.) Legendary Hop "Sorachiace" Fair!
Beer using hop "Solachiace" born in Kamifurano, Hokkaido will be offered!
6/29 (Sat), 6/30 (Sun) Hoegaarden Fair
White beer originated from Belgian Hoegaarden!
Related websites
There is also a page on our website that reports in detail on the state of the venue at Beer Mount.