About Mt. Takao
Mt. Takao is about an hour from central Tokyo. The mountain owes it popularity to its ease of access and abundance of nature (the number of native plants is about 1,600 species. Which is roughly equivalent to number of unique flora found in the UK!)
In recent years Mt. Takao has become the world's most visited mountain with 3 million visitors a year. Mt. Takao is full of attractions, including Yakuo-in temple which has a history of more than 1000 years, a cable car that boasts the steepest slope in Japan, a wide variety of trails for all your trekking needs, and gourmet shops that carry local specialties such as Tororo Soba.
The secret to Mt. Takao's success is that even absolute beginners can enjoy the mountain and its subtle moods. Beautiful nature such as autumn leaves, Summer's fresh greenery, diamond Fuji in December, the stamp rally, Setsubun in the Spring, Yakuo-in events such as fire festivals, and various group events are also a major pull. All of these things mean that you can enjoy Mt. Takao all year long!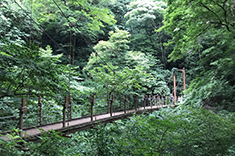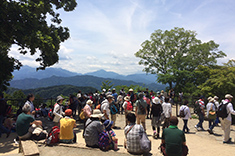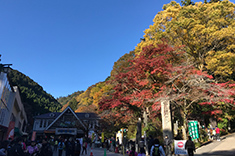 Trails
With varying difficulties means there is a trail for everyone!
MORE
Attractions
The cable car, Yakuo-in temple, the scenery and local exhibitions
MORE
Foods & Drinks
Mt. Takao's specialty "Tororo Soba" and "Dango"
FOOD
MORE
Blog
Firsthand reports and updates on Mt. Takao!
MORE