The Beginner's Guide to Mt. Takao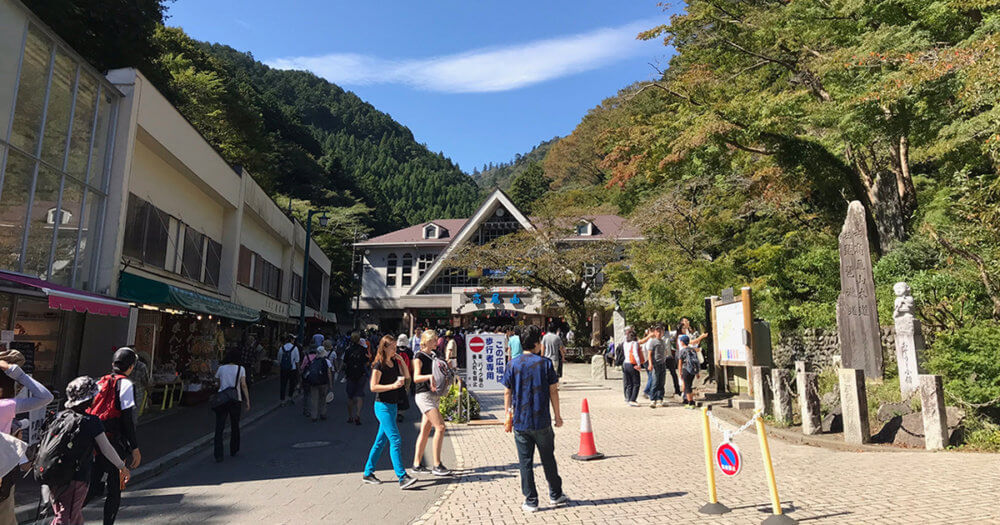 Welcome to Mt. Takao!
Mt. Takao has become the world's most visited mountain with an average of 3 million visitors per year after Michelin's Guide gave the area a three-star rating in 2007 for its ease of accessibility and rich nature.
With a rough altitude of 599m, Mt. Takao is a popular tourist spot because beginners and even children can reach the summit!
Besides mountain climbing, there are many ways to enjoy the mountain such as Yakuo-in Temple and local foods!
So what kind of place is Mt. Takao?
Read on to find out!
Getting to Mt. Takao
In relation to other popular mountain destinations, Mt. Takao benefits greatly from it's superior ease of access.
About an hour away from Shinjuku on the Keio Line lies Takaosanguchi Station, the closest station to the entrance of the mountain trails.
Compared to other mountains where it make take a while to find the trailhead, at Mt. Takao you can start climbing immediately after exiting the station.

Mt. Takao also sports several different modes of mountain transportation!
If you take a cable car or chair lift, you will find yourself flying up the hillside with ease.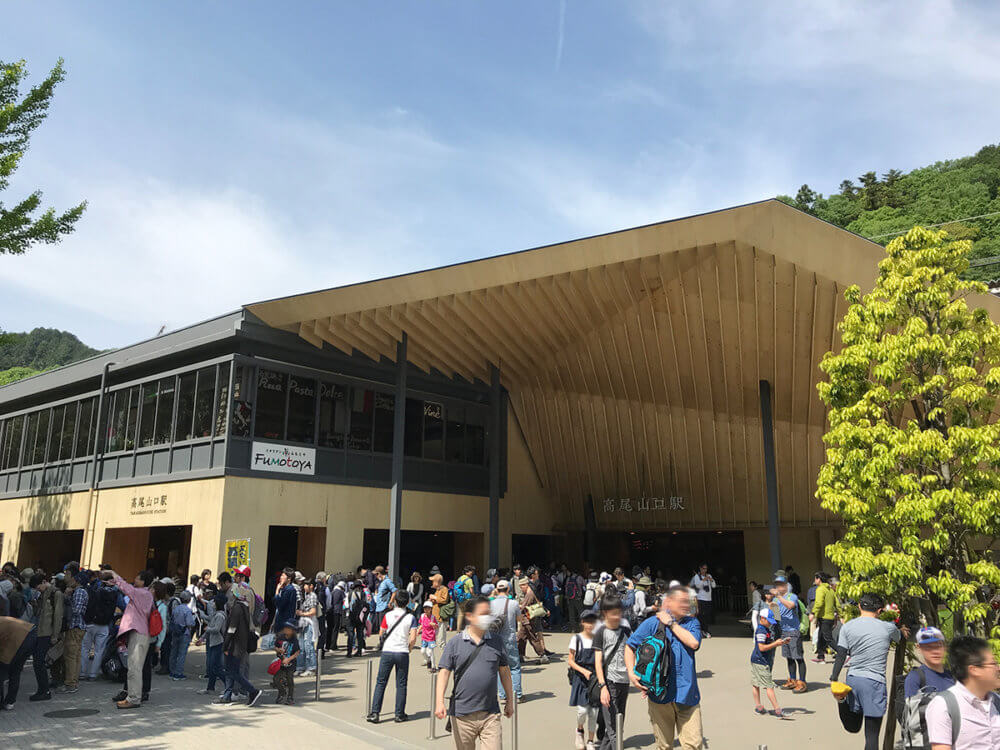 There are parking lots around Takaosanguchi Station, but please note that it will fill up early on weekends and during high-traffic seasons.
How to enjoy Mt.Takao
In addition to hiking, Mt. Takao has various other attractions including Yakuo-in Temple and traditional foods local to the area.
From leisure with your family to dating and solo climbing, you can enjoy the mountain in a variety of ways!
Various climbing trails
Mt. Takao is home to seven different mountain climbing Trails, Trail 1-6 and Inariyama Trail, of course each trail is different in terms of terrain and difficulty offering a novel experience each time you visit the mountain.
Trail 1 has many attractions such as the cable car station, Yakuo-in Temple, shops and restrooms. Trail 1 is paved and can be enjoyed as if you were walking in a city in the mountains.
The other courses are mountain trails without shops and restrooms.
Depending on how you want to enjoy the mountain, plot your route accordingly.
You can find maps and details of the trails here.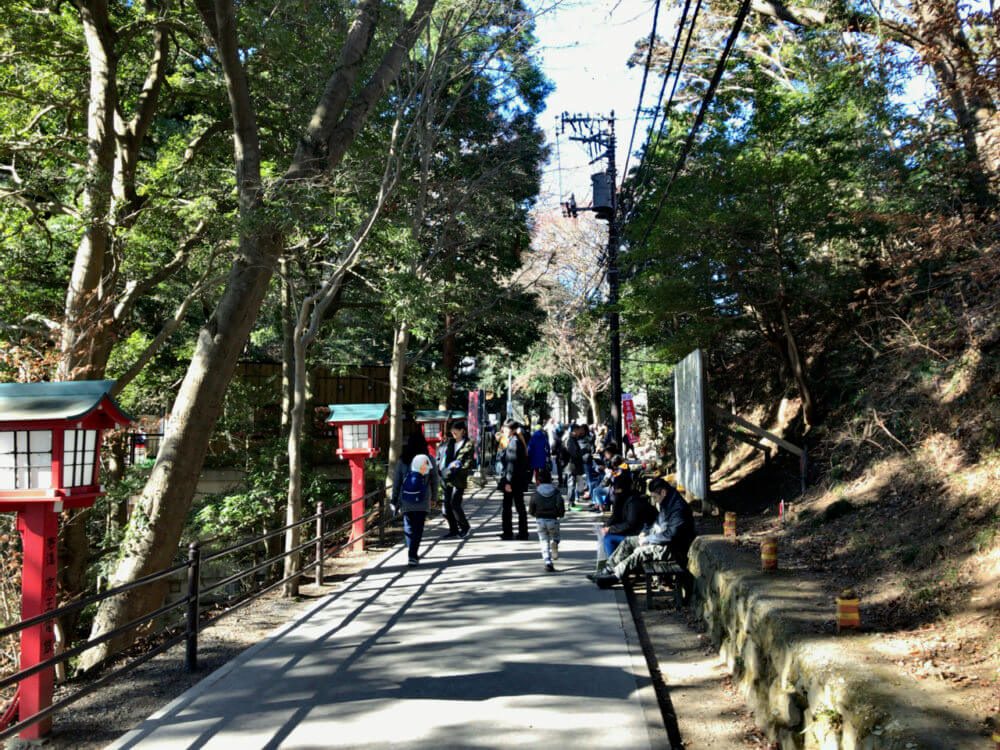 If you choose to travel up the mountainside by cable car, you can walk along Trail 1 to Yakuo-in Temple as if you were walking downtown in an urban area.
Otherwise hiking trail from the base of Mt. Takao without the cable car will net you quite the workout!

The section from Yakuo-in to the summit is a little mountain road, but it is well-maintained, so those in moderate shape will have no problem.
Aside from Trail 1 the other trails are unpaved mountain roads.
It's okay if you don't bring full trekking gear, but you should wear clothes that are easy to exercise in. The difficulty of these trails is not so hard and is often used for kindergarten and elementary school excursions, but you can always climb more comfortably with climbing clothes and equipment.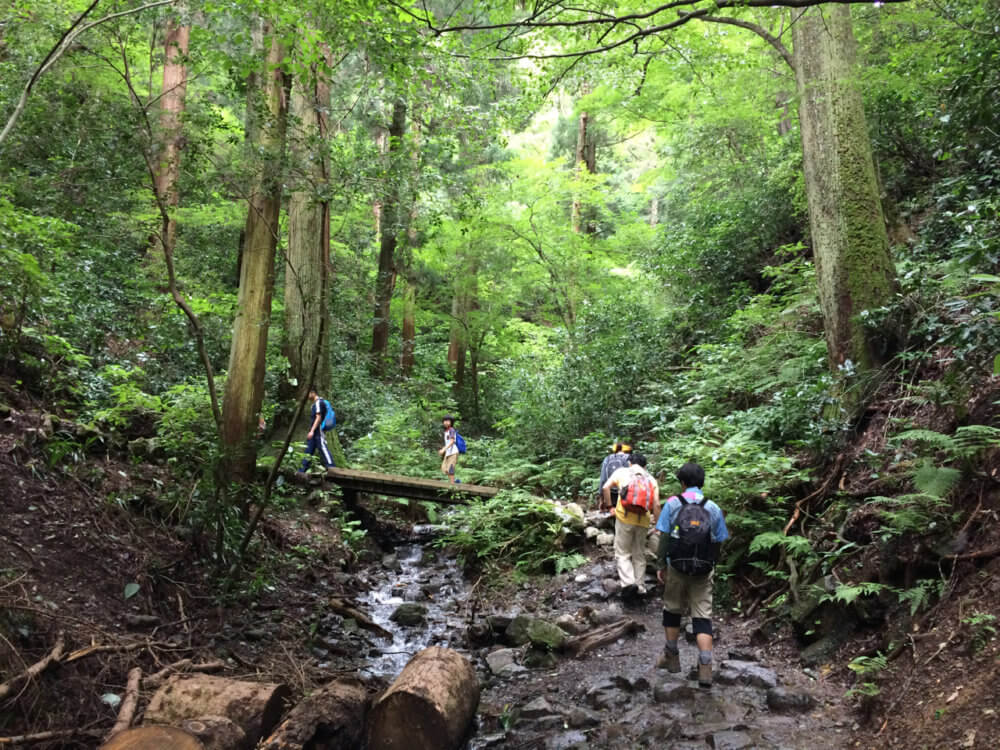 On the other hand, if you want to enjoy an exhaustive hike, there are trails at Oku-takao and Minami-takao ridges, which are loved by veteran climbers and trail-runners alike.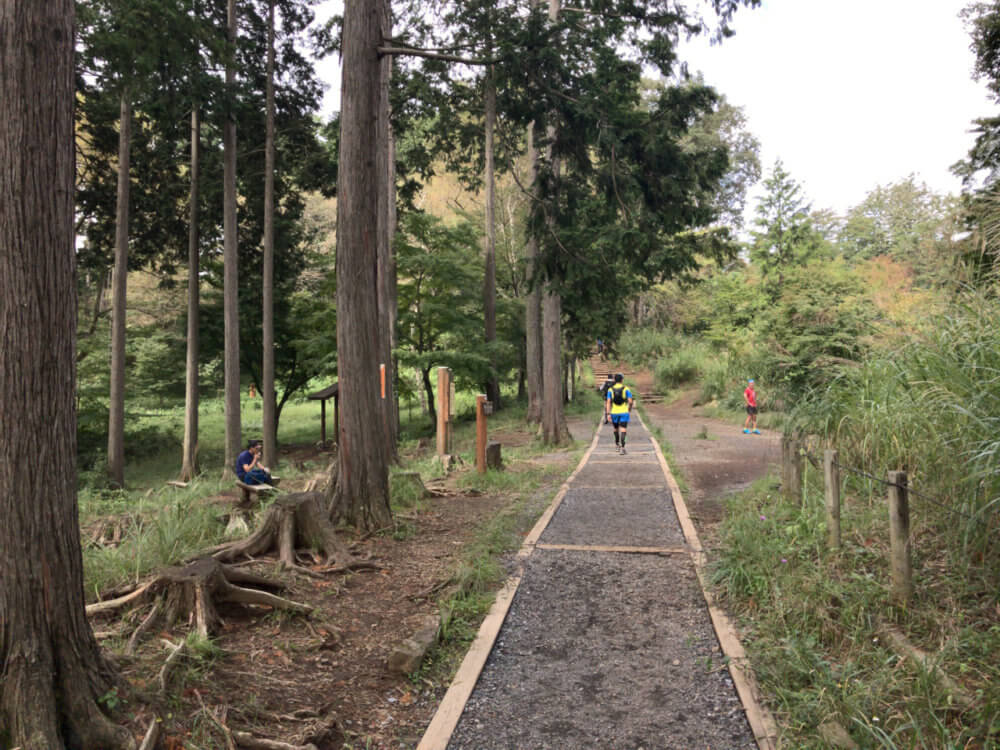 In summary, Mt. Takao has a little something for everyone!
TakaosanYakuo-in Temple
Takaosan Yakuo-in Temple is one of the three principle temples of the Shingon-shu Chisan-ha Sect, with a history dating back to 1200 years ago.
It has been worshiped since ancient times, but recently has become popular as a place to collect red stamps and enjoy various power spots.
Tengu (ancient Japanese spirit that has mastered the martial arts) is believed to inhabit the mountain. To this end Tengu statues dot the perimeter of temples, and you can hear the sound of spiritual trumpets.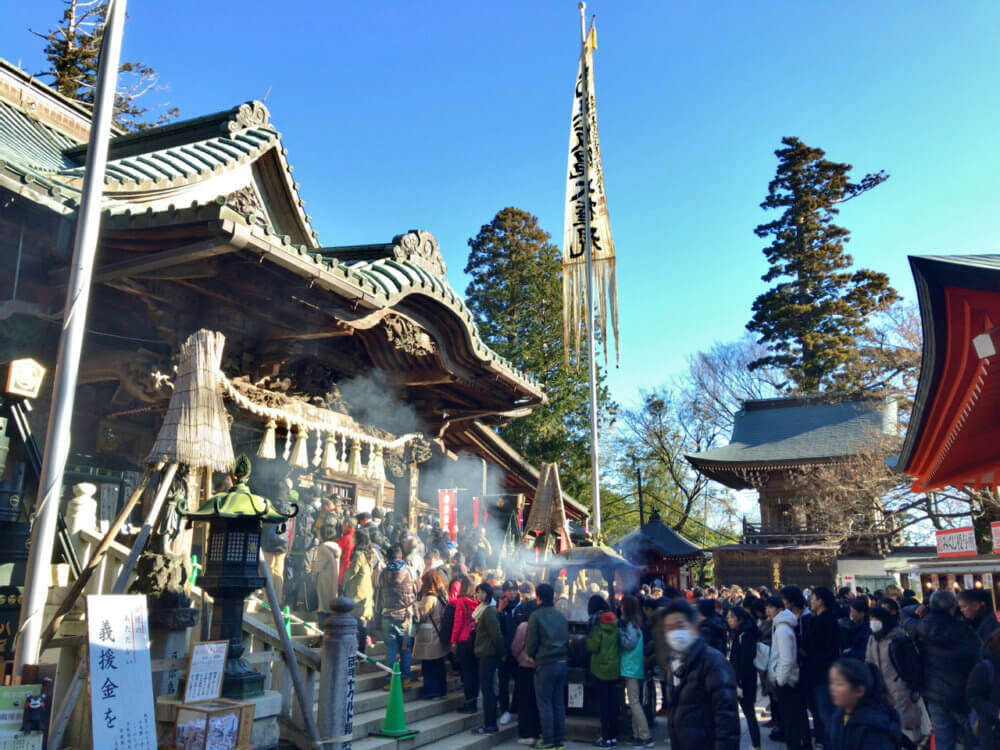 Foods & Drinks
There are many restaurants and shops in Mt. Takao from the foot to the summit, where you can enjoy foods & drinks.
Among them, "Tororo Soba" is a bowl of specialty buckwheat noodles for which there are 18 unique soba restaurants.
You can also enjoy Dango (traditional rice dumpling) at about 7 shops.
There are also many specialties such as "Tengu Yaki" and many sweets.
In summer, you can't miss the highest beer garden in Japan, "Takao Beer Mountain".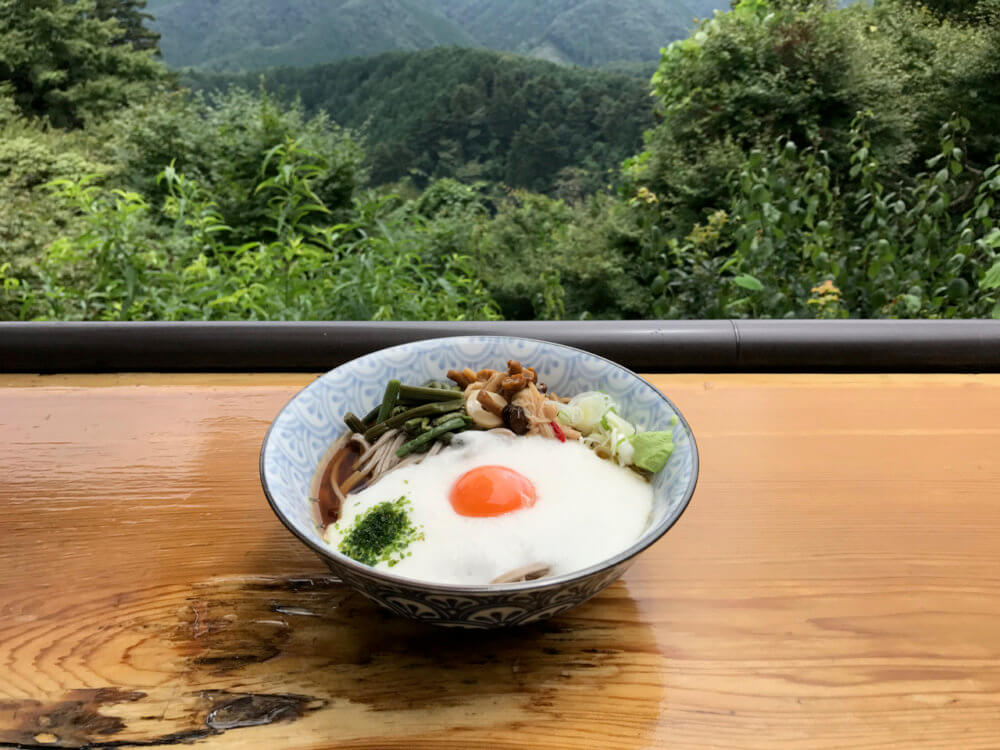 Abundant nature
Mt. Takao is famous for its abundant nature. Although it is a small mountain, about 1,600 kinds of plants grow natively (almost the same as the total number of plants all over the UK), one of the many factors which contributed to its Michelin 3-star rating
In the spring, many photographers visit Mt. Takao and take pictures of flowers.
In addition to plants, there are many kinds of insects in addition to the famous flying squirrels.
You can learn more about the nature of Mt. Takao at TAKAO599 MUSEUM conveniently located at the base of the mountain.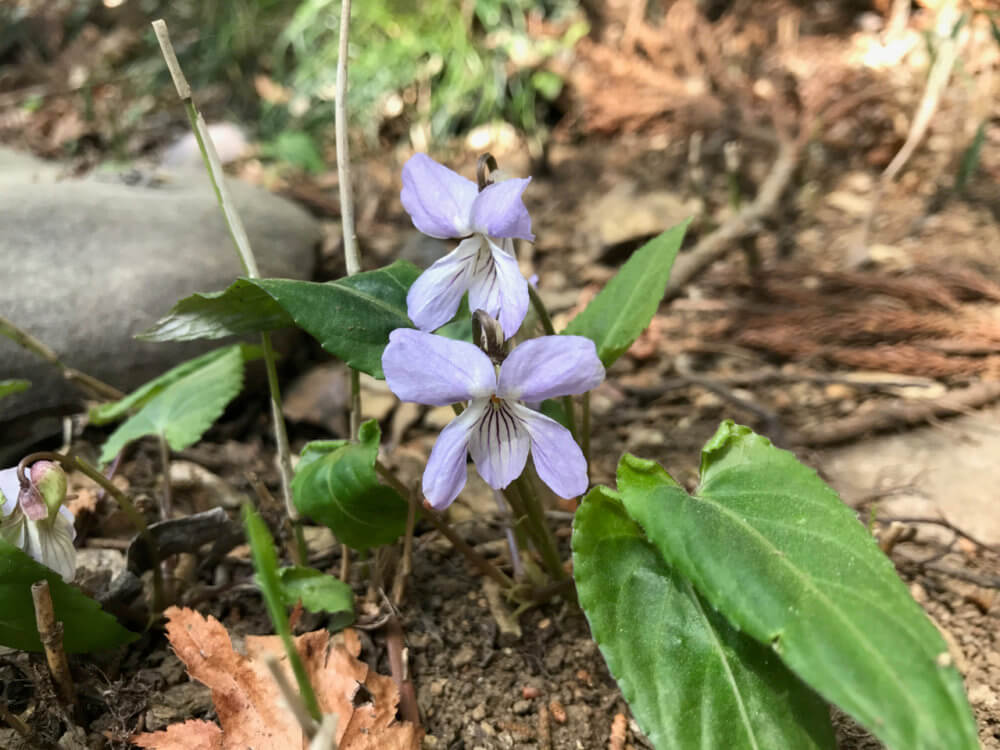 At Mt. Takao, in the heart of nature, one can observe the many moods of the mountain as they vary from spring to winter. You can always enjoy different charms such as flowers and the fresh green in spring, the refreshing beer mountain in summer, autumn leaves in the fall, in addition to Diamond Fuji in winter and Setsubun at Yakuo-in in Spring.
In particular, the autumn colors of the falling leaves are unparalleled in beauty, and is when Mt. Takao is at its most crowded.
Clothes
Are you worried about having to wear clothes for mountaineering?
If so, please put such concerns from your mind!
There are cable cars and lifts on Mt. Takao, so if you just want to go to the Beer Mountain or Yakuo-in Temple, you don't need to wear mountain clothes. There is no problem with everyday clothes that are easy to move around in.
If you are walking on a mountain trail other than Trail 1 or going in the winter, be take care when selecting your clothes.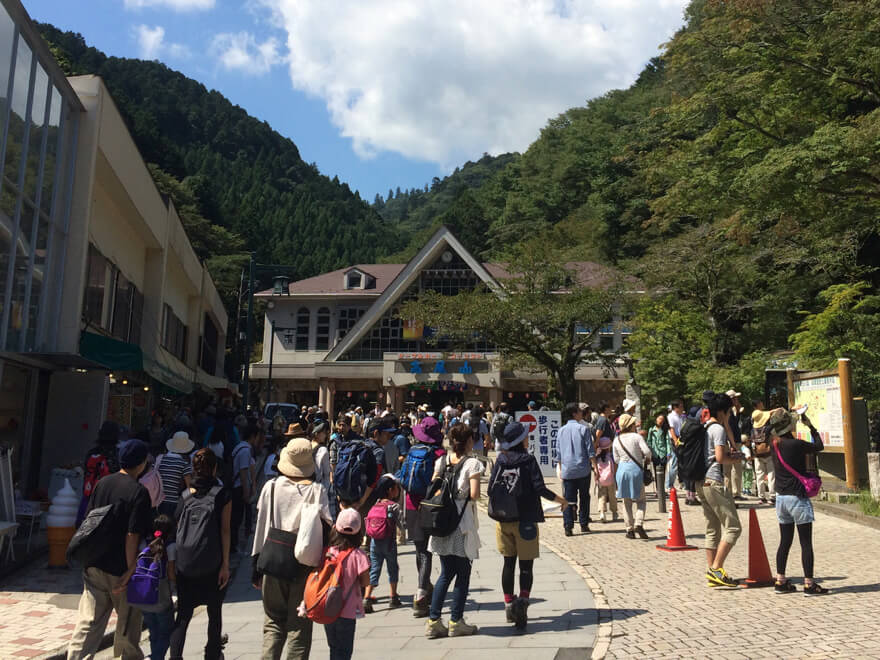 Preparing for the heat and cold
Mt. Takao is cooler than the center of Tokyo.
Especially in the winter, the cold can become severe, so please make sure to take measures against the cold.
The most difficult thing about mountain clothing is that you sweat when you climb or walk. If your sweat gets cold, your body temperature will drop. In winter, this can be dangerous, so it's a good idea to change clothes or wear quick-drying undergarments for climbing. (It is said that cotton T-shirts are not good for mountaineering because sweat does not dry easily)
[Montbell] Geoline L.W. T-shirt
Lightweight and quick-drying, a versatile article that plays an active part in all seasons, such as sweating intensely in cold weather and water sports in summer. It is thin and excellent in elasticity, making it easy to layer.
See details on Amazon
It is also recommended to wear clothes that are easy to put on and take off so that you don't sweat too much.
Don't forget to bring a towel with you.
Also, the weather in the mountains is quick to change, so if you suspect it might rain, you may consider bringing rain-gear or a folding umbrella.
One would imagine that in the summer the mountain would be cool, however because it is a low mountain at an altitude of 599m, it is not cool even at the top of the mountain, and the heat is no different from the city.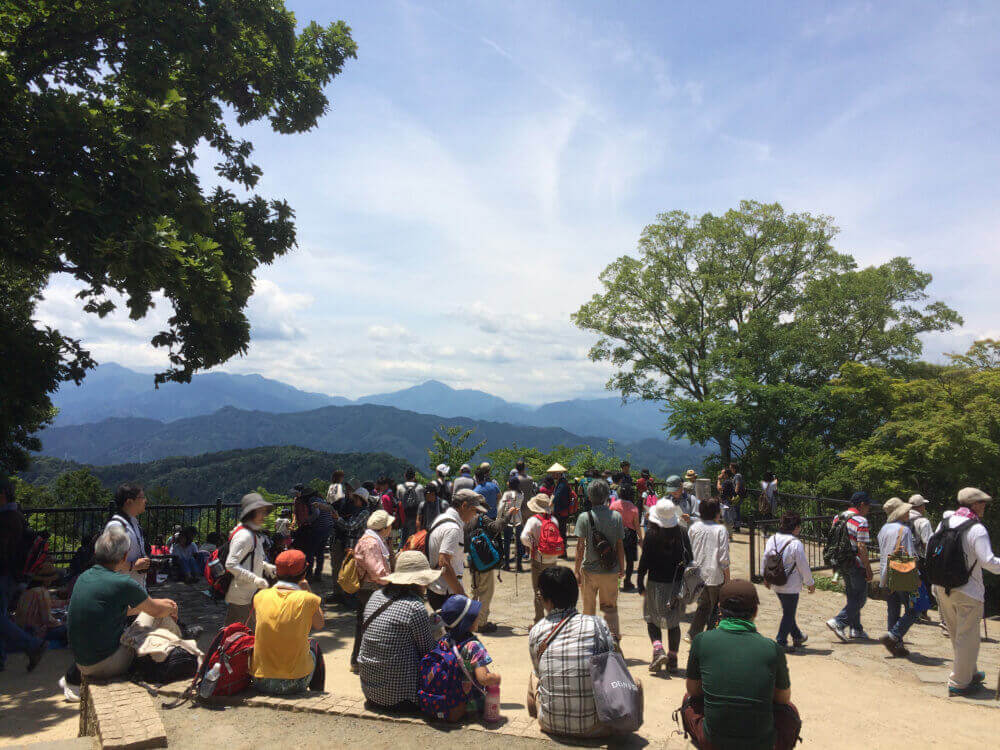 Shoes
Since the road to Yakuo-in is paved, even visitors who sport leather shoes can surmount the trail without issue.
However, if you are going to the top of the mountain or on a trail other than Trail 1, you should use shoes that are easy to walk in.
Ordinary sneakers and athletic shoes are OK, but climbing shoes such as trekking shoes are better. Frost and mud in Winter can become a slipping hazard and may become an issue.
Columbia Meteor Mid Omnitech
Waterproof trekking shoes with a retro and simple design. It uses the waterproof and breathable function "Omnitech" that minimizes stuffiness in shoes caused by intense exercise.
See details on Amazon
Mountaineering wear
Mt. Takao is easier to walk around than other mountains, but if you wear climbing clothes and equipment, it will be easier and more comfortable.
Jeans are not suitable when walking on a long trail, and trekking shoes are less tiring than regular athletic shoes. In particular, sweat-wicking undergarments are recommended for mountaineering because sweat easily dries.
It may not be necessary if you only plan to climb Mt. Takao once, but if you come to visit several times, you may enjoy climbing more if you bring hiking clothes.
At "Oku-Takao" beyond the summit of Mt. Takao, most people use climbing equipment. If you go deeper than the mountaintop, we recommend that you prepare by bringing climbing clothes and equipment.
Items and equipment
There are many shops on Trail 1, but there are no shops or vending machines on the other trails. Be sure to bring a drink such as water.
When the sun goes down, there will be no street lighting and the area will be completely dark. If your trip is likely to be in the evening, bring a light-source.
Conveniently cell phones receive reception in most areas of Mt. Takao.
Each year inevitably emergency dispatches are sent to the mountain.
Most of them are for the mildly ill and injured. For this reason please always climb after having made the proper preparations.
In addition to drinks and food, you can purchase clothes and goods from the outdoor brand "Mont Bell" at the shop "Kaede" in front of Takaosanguchi Station.
If you have forgotten something, you can make your preparations here.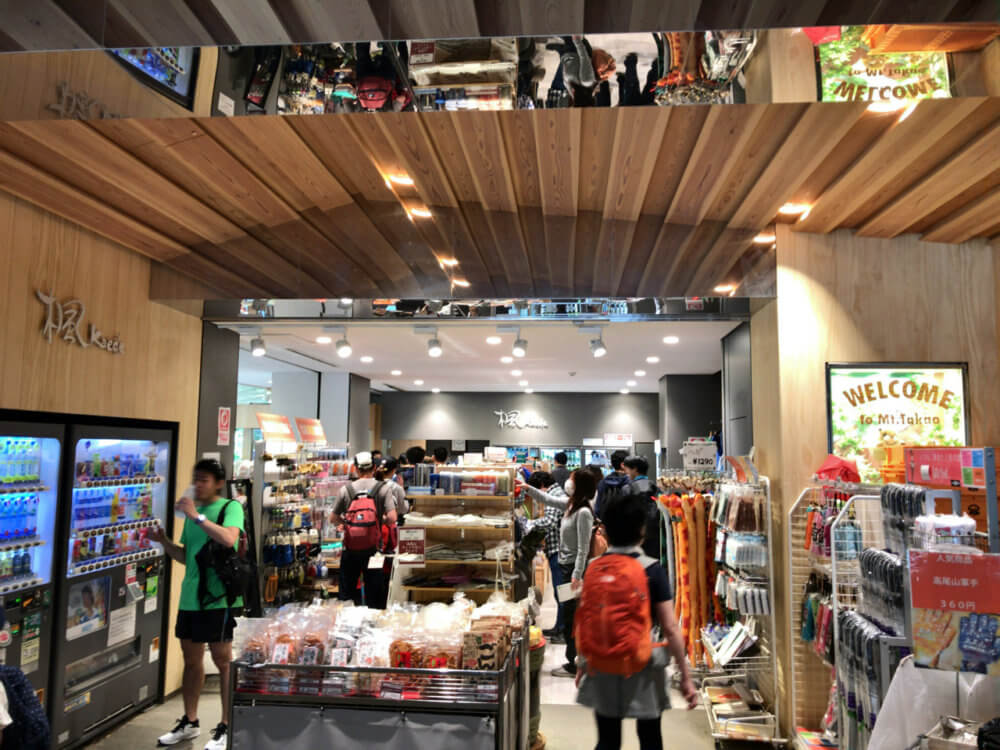 Child-friendly
Of course Mt. Takao is a mountain that can be enjoyed by children. Many families visit every day. If your child is an elementary school student, they can surely make it to the top of the mountain.
The path is paved up to Yakuo-in, so you can push your child using a stroller. (Though it will slightly rattle as the road is rougher than city pavement)
One can often see dads climbing with a baby carrier.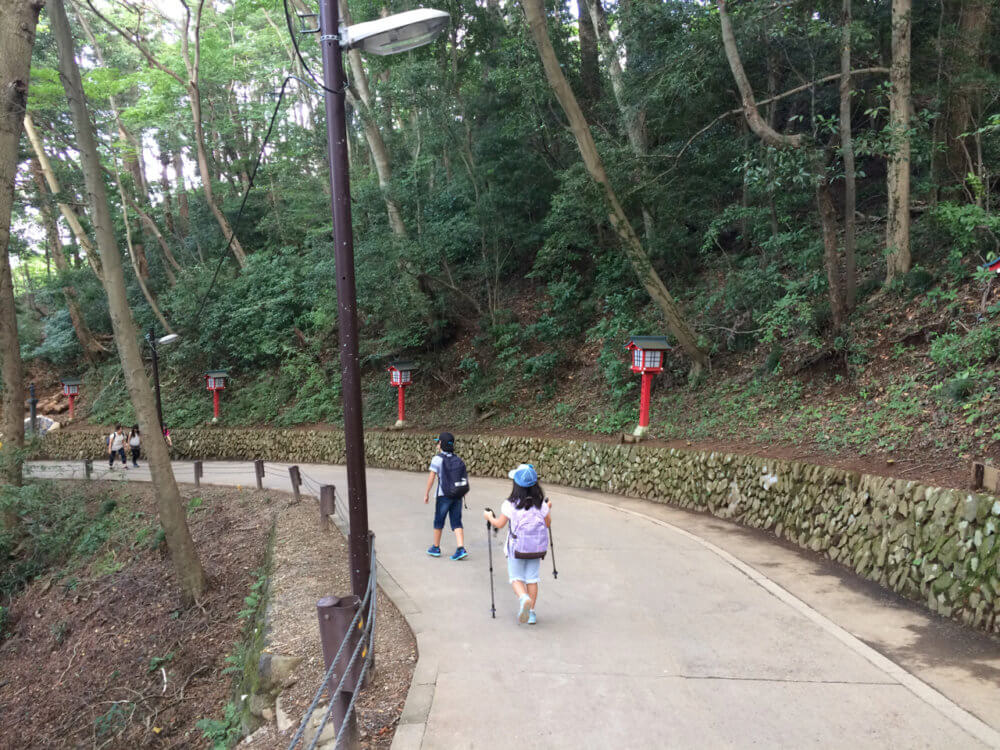 However, Golden Week and the period surrounding autumn leaves can become very crowded, so you may have to wait up to one hour for the cable car. Children can get tired of waiting in line, when the cable car and mountain trails become congested.
Even if you don't climb the mountain, the "Trick Art Museum" and "TAKAO599 MUSEUM" at the foot of the mountain are popular with children!
Restrooms
Ordinarily mountain restrooms are dirty and poorly maintained, but Mt. Takao's restrooms are very clean.
At the base of the mountain
There are restrooms inside the ticket gate of Takaosanguchi Station, in front of the station, at the cable car station, and at TAKAO599 MUSEUM.
Above all, TAKAO599 MUSEUM was built in 2015, and the restrooms are very clean and well-maintained.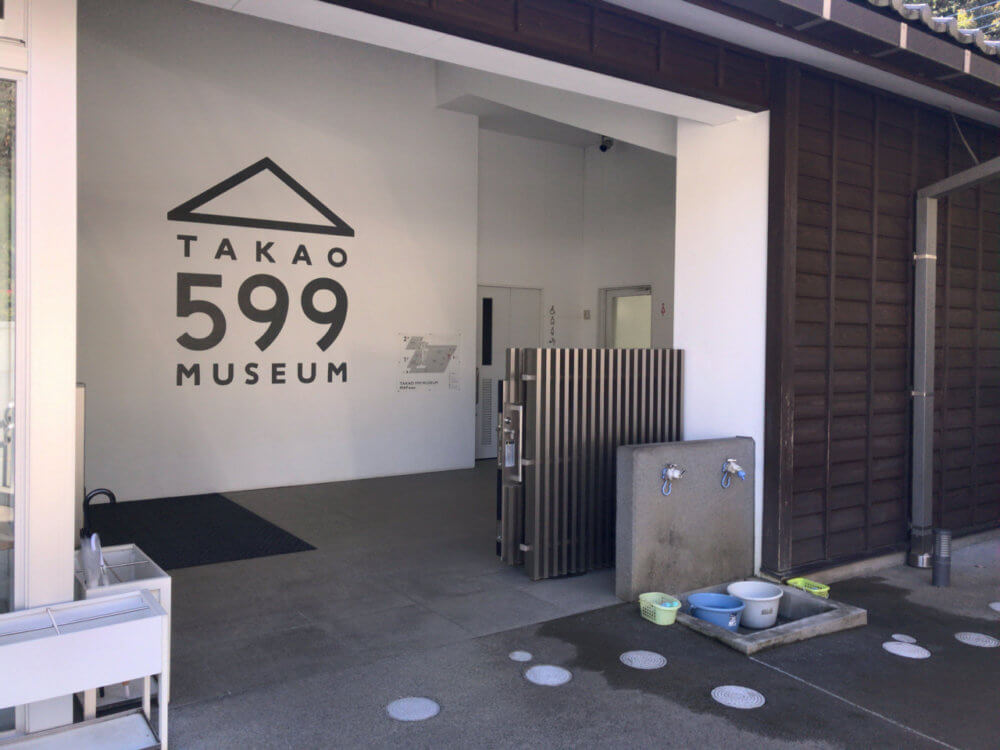 On the mountainside
Restrooms are also located at the cable car station, the lift station, and Yakuo-in temple.
These are not so clean, but still worlds above other mountain restrooms.
At the summit
In 2012, a large restroom was completed just below the summit to accommodate the increasing number of visitors. There are clean toilets at the summit as well.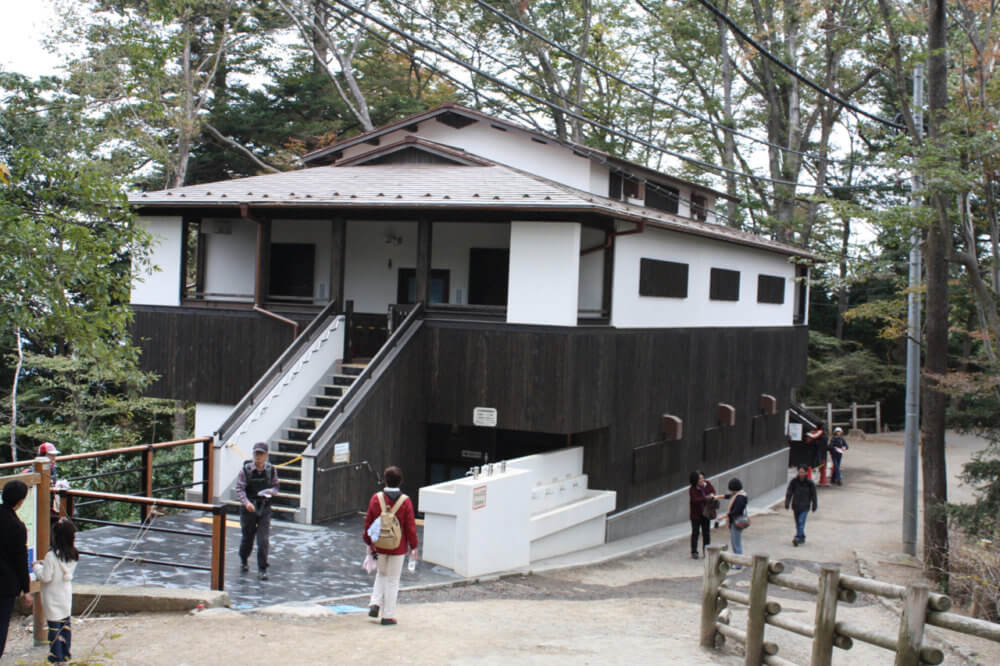 These restrooms are all along Trail 1. Please note that there is no restrooms on courses other than Trail 1.
Rules and manners for climbing Mt. Takao
In 2007, Mt. Takao established the "Rules and manners for climbing Mt. Takao" in order to preserve the wonderful nature for future generations.
In particular, all visitors must take their garbage home, and there are no trash cans on Mt. Takao.
For this reason, the mountain has managed to maintain its natural beauty unmarred by litter.
Please respect this wonderful rule and enjoy the mountain.
* * *
Although Mt. Takao is a mountain that can be easily enjoyed as a tourist destination, there are points to be aware of depending on the season, time of day, and course.
Please ensure that you bring the proper clothes and provisions before making your trek out to Mt. Takao!