Trails
Trail 1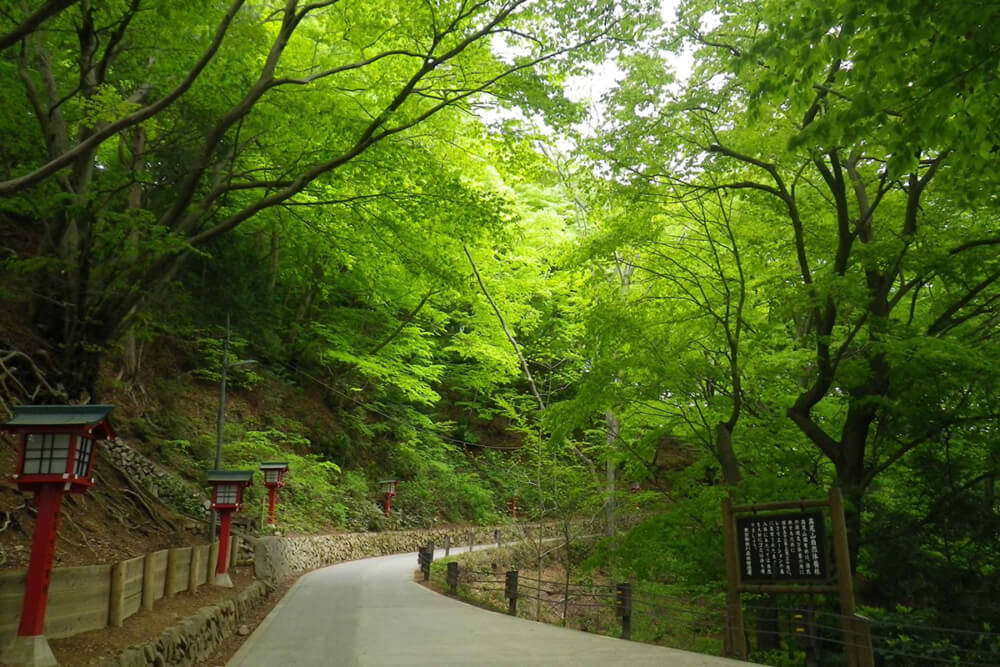 The most popular way to the peak with many shops is Omote-sando (the principle road) to Yakuo-in Temple
Distance:3.8km
Time:100min(up) 90min(down) (by cable car or chair lift : 50min(up) 40min(down))
Difficulty:★★★☆☆ (by cable car or chair lift : ★★☆☆☆)
Omotesando (the principle road) is useful for those traveling  Yakuo-in Temple, and all the roads leading up to Yakuo-in are paved.
Since only the short section before the summit is not paved, you can climb casually even in everyday wear.
It is the busiest course with many restaurants, the cable car station, a monkey park, cedar trees, and Yakuoin.
There are many restroom in the cable car stations and Yakuo-in.
Trail 1 divided into three sections.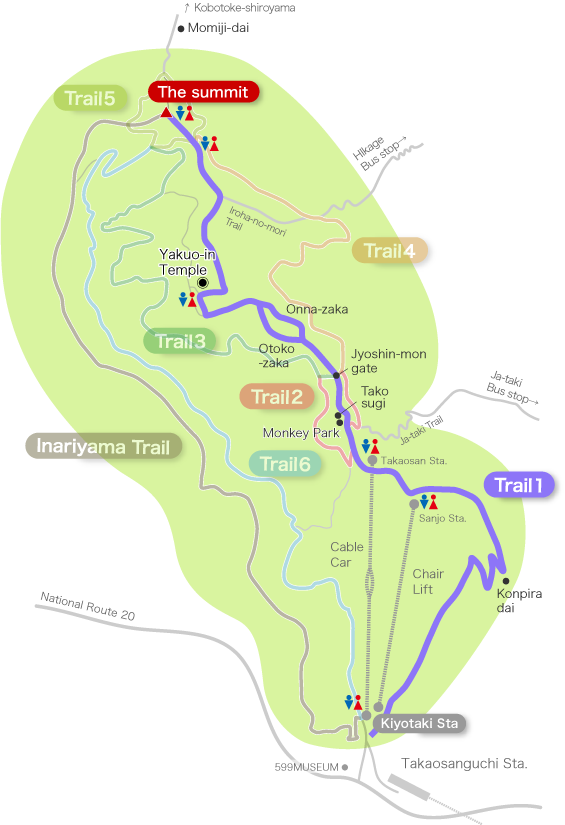 From the foot to middle of the mountain (50min. without taking cable car or chair lift)
The cable car or chair lift, can be used as a shortcuts, but If you want to enjoy climbing, you should try walking.
It takes about 50 minutes and the slope is tight, but all are paved and easy to walk, so even children can climb without problems.
Many kinds of flowers can be seen in spring, and it is an excellent  place to observe nature.
Restrooms in this area:None
[Click for Large Image]
Check Point!
Konpiradai

This is an observation deck located the middle of this section. It is a detour from the paved road, but has a superb view overlooking Shinjuku.
From the cable car and chair lift station to Yakuo-in Temple (20min)
People using the cable car or chair lift get off here and can begin their trek.
Around the cable car station, there are many restaurants, the beer mountain, observation decks, and restrooms.
On the way to Yakuo-in, there are more restaurants, souvenir shops, and even a monkey park that is divided into two stories!
Restroom in this section : Next to the lift station, opposite the cable car station, Yakuo-in
[Click for Large Image]
Check Point!
Takosugi (Octopus shaped cedar)

A large cedar "Takosugi" with its roots winding like a leg. There is a famous legend about why the roots are bent. LEARN MORE→

Otoko-zaka and Onna-zaka

A while after Jyoshin-mon gate, the road forks into "Otoko-zaka" a steep stairway, and "Onna-zaka" the gentle slope. 108 steps! LEARN MORE→

Jyoshin-mon gate

If you pass here, you will find yourself in the precincts of Yakuo-in. Front of which is a mausoleum. LEARN MORE→
From Yakuo-in Temple to the summit (30min)
To reach the summit from Yakuo-in, you must first climb a number of long staircases from the precinct.
The main route is the staircase leading from the Main Hall to Izuna Gongen-do Hall, but it can also be reached from the right side of the Main Hall (slightly slower from the right handside).
After passing through the precincts, it becomes a mountain path that is not paved, followed by a rough road.
However, because the distance is short, even children can reach the top of the mountain. And kids are so energetic, they may even beat you on the sprint to the summit!
Restrooms in this section:the summit, below the summit
[Click for Large Image]
Check Point!
Yakuo-in Temple

"Yakuo-in" is one of head temples of the Shingon-shu Chisan-ha Sect. It is also popular as a power spot because of its spiritual facets such as "Izuna Dainagon" and Tengu. LEARN MORE→

Restroom below the summit

A huge restroom unique to Mt. Takao, which is said to have the highest number of climbers in the world. Completed in 2012. LEARN MORE→